CR-N

Non-Stop

Rewinding Equipment

Automatic rewinding

without production stop

Automatically change paper reels

without production stop
Keep digital print jobs moving continuously
The digital print process - from order intake to shipment of finished product - is highly digitized and automated. However, one costly and time-consuming factor disturbs this efficient chain: the need to change paper reels manually. Manually changing paper reels using a mono unwinder can easily take 15 minutes. Changing a paper reel every hour therefore cuts productivity by 25% every working hour. If you also operate a manual rewinder, the productivity loss will be even higher.
Contiweb's CR-N non-stop rewinder can splice paper reels of different weight, web width or coating, without having to stop your press. Even varied finishing requirements can be accommodated as the Contiweb CR-N can roll up jobs onto different cores.
Benefits
Non-stop winding saves considerable production and labor hours


Change reels and prepare splices during production, so avoiding production stops


Preparing the splice is very easy and takes only two minutes. The splice performance is regularly and repeatably 99.8% or higher


You can splice over to papers of different web widths, coatings and weights. This is very useful for short, fast-changing jobs. It is also easy to use rest reels, and there is no restriction on the diameter of the new or used reel for splice performance


The lift arms of the Contiweb equipment can move up and down, allowing the reel to be loaded from the ground. This operation is ergonomic, and requires no lifting crane


Additional advantages are: fewer mistakes when preparing the splice, less chance of losing the web completely out of the engines (time pressure of production). Less waste by cutting unnecessary white paper, fewer startup problems, energy savings by quick change over.
Features
Horizontal festoon for zero-speed splicing


Lap splice as standard. Butt splice optional


Arms that lift the reels up and down from the loading platform


No reel shafts required


Easy to use Human Machine Interface


Compatible with all web inkjet presses


Paper weight from 40 to 250 g/m2. Optionally to 350 g/m2


Maximum winding speed 5.5 m/s (1080 f/m).


CD-N non-stop unwinder available in 22" (560mm), 42" (1100mm), 30" (770mm) and 61"(1530/1550mm) versions


CR-N non-stop rewinder available in 22" (560mm) and 42" (1100mm) versions.
CR-N non-stop rewinder
The CR-N rewinder is fully automatic, with the zero-speed operation ensuring perfectly rewound reels without interrupting production.
With the press in production, the running and new web are brought to a halt during the splice cycle, when the press is fed from the integrated festoon. The automatic splice can be made at production speed, at any reel diameter and at any time. Fully wound reels can be unloaded and cores prepared during production. A lap splice is standard, and the CR-N can optionally perform one or two-sided butt splices.
Shafts on the CR-N can be taken out and must be inserted into the core of the new reel. The arms can move the shaft up and down, so that reel loading and unloading can be done from the floor. No crane is necessary.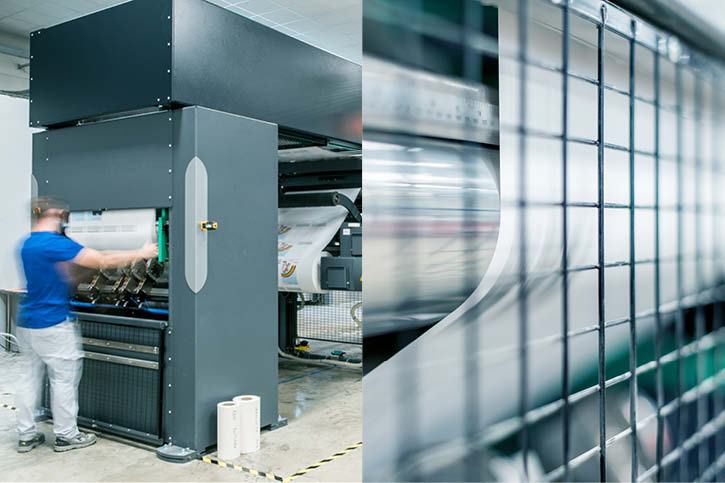 Short payback period
By eliminating an enormous number of lost production hours when using manual winding equipment, non-stop winding equipment normally pays for itself very quickly.
Use our easy calculator tool for an indication of the payback period and determine whether you can benefit from non-stop winding.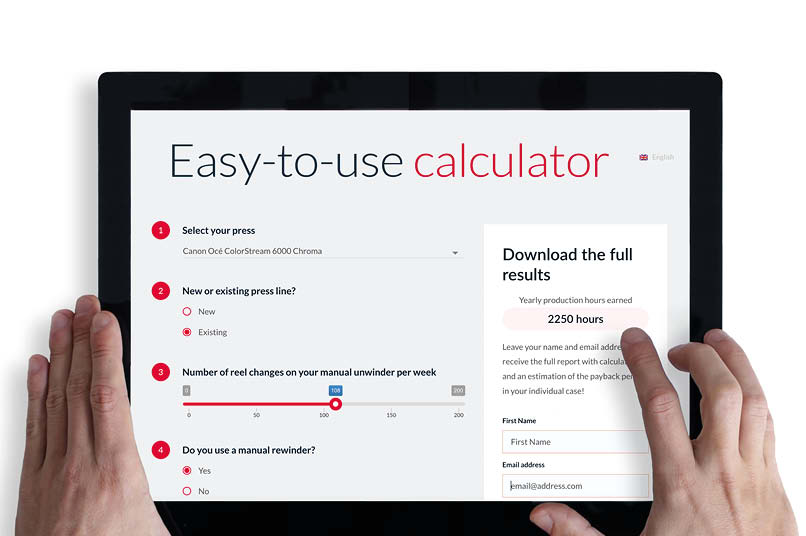 Frequently Asked Questions
Below you find the answers to some commonly asked questions about this equipment.
There are situations in which printing companies opt to rewind certain printed jobs instead of finishing them inline. Several factors contribute to this decision. One such factor is when the finishing process is outsourced to an external company. In these cases, rewinding the printed reel proves to be a practical choice. By sending the reel to an external finishing provider, better coordination and control can be achieved over the finishing process. This approach ensures that the external company receives a neatly wound reel, facilitating their handling and enabling them to perform specific finishing tasks with ease.
Another reason for choosing to rewind printed jobs is workflow optimization. At times, the finishing line may be occupied with other ongoing jobs or require specific setup configurations. By rewinding the printed reels, they can be temporarily stored and queued for finishing at a more opportune time. This flexibility in the workflow significantly enhances overall productivity, reduces bottlenecks, and ensures a seamless production process.
When utilizing a Contiweb CR-N non-stop rewinder in combination with a Contiweb CD-N non-stop unwinder, printers gain several additional benefits, including the capability of executing a coordinated splice. This refers to the process of making a splice at the exact same location when the paper reel is wound by the CR-N non-stop rewinder as the splice made at the beginning of the process by the CD-N non-stop unwinder. These splices align perfectly on top of each other. This synchronization is made possible due to the zero speed technology and paper buffer of the CR-N non-stop rewinder, which provides enhanced control over the splicing moment. The advantages of a coordinated splice include reduced waste and the assurance of having a printed roll of paper that matches the unprinted roll precisely.
The CR-N non-stop rewinder offers the option to be equipped with either shear or crush slitters for cutting purposes.
Shear slitting involves the use of sharp circular knives that move against the paper and cut through it. Shear slitting is known for producing clean and precise cuts, making it suitable for paper up to 350 g/m².
Crush slitting employs a sharp cut knives that press against a hardened roller. The cuts may be slightly less precise compared to shear slitting. However, crush slitting offers certain advantages. It allows for more frequent cuts, with a minimum distance between cuts. Additionally, during production, the position of the cuts can be manually adjusted, and the cut can be combined with perforation if desired.
The operator must insert a core into the CR-N non-stop rewinder to which a small piece of paper is attached, sufficient to reach the splice head. There, the adhesive tape should be stuck so that the CR-N non-stop rewinder can connect the empty reel to the printed paper coming out of the printing press.
The Contiweb CR-N non-stop auto splicer has lift arms that can move up and down. This operation is ergonomic, and requires no lifting crane. Also no reel shafts are required (when slitting is not selected).
The Contiweb CR-N non-stop auto splicer allows you to splice over to papers of different web widths, coatings and weights. This is very useful for short, fast-changing jobs.
The Contiweb CR-N non-stop auto splicer makes an overlap splice when joining two reels of paper.

The Contiweb CR-N non-stop auto splicer can handle paper reels with a diameter of up to 1,520 mm (60 inches) and a maximum weight of 1,600 kg.
Spare parts for Contiweb non-stop auto splicers are conveniently available in the Contiweb Parts Webshop. Sign up for an account and gain free access to Contiweb machine manuals and parts books, saving you valuable time by filtering your search for specific machine parts.
Plus, explore our Uptime Kits, specially curated with essential components to minimize downtime in the event of breakdowns, ensuring you have the necessary parts readily available in your own facility. Streamline your maintenance and keep your operations running smoothly with Contiweb.
Service
Delivering the best possible customer support has always been a fundamental part of our mission. Our portfolio is designed to provide peace of mind with comprehensive programs and options for maintaining and optimizing the productivity and competitiveness of your operation.