Remote

Monitoring and Diagnostics
Remote diagnostics
Contiweb has a long history In the heat set web offset industry, in which we serve customers around the world who produce 24/7 and have tight deadlines. Unexpected downtime can have huge financial consequences for such clients and lead to reputational damage. Fast response times and resolution of problems are then critical so that the customer can resume production as soon as possible.
Contiweb's 24/7 Remote Tech Support teams in the Netherlands and the United States, consisting of experienced and trained product specialists, are able to solve most problems remotely without the need for an engineer to come on-site. Thus saving valuable time and costs. The prerequisite for this, however, is that the team can log into the Contiweb machines via a VPN connection and thus analyze what is going on. Remote Tech Support is part of our
Service Support Agreements
.
Performance benchmarks
Analysis of the data also provides us with benchmarks on the performance of the machines at customer sites. As part of the Service Support Agreements, we can proactively and openly inform customers about the performance of their machines against these benchmarks, and advise how they can realize the full potential of their equipment. The vast amount of data we have collected on our machines over the years gives us extensive knowledge about the performance and capabilities. Based on this data, we have been able to continuously improve our equipment and develop
Enhancements
to help our customers to optimize the performance of their machines.
For customers with a Service Support Agreement, all important data is also available in MyContiweb. This online platform is updated daily and includes a dashboard with an overview of your printing press lines and the daily production times, performance data and resource consumption, allowing you full grip and control over your equipment.
Most problems we can solve
remotely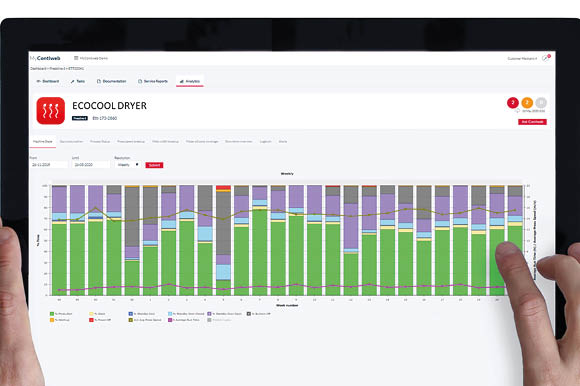 Download the EPR leaflet
With the EPR enhancement, printers can save significantly on their electricity costs. The two-year payback time on the EPR makes for a very quick Return on Investment (even faster if government subsidies are available). It also protects against rising electricity prices, and considerably reduces your company's carbon footprint
Significantly reduce your electricity costs
Reduce your company's carbon footprint
Average 2-year repayment
Fill out the form on the right to receive the Electrical Power Reduction leaflet.
Would you like to know more?
If you would like to know more about our Electrical Power Reduction enhancement, then please don't hesitate to contact us!