Contiweb Digital

Fluid

Applicator

Applying fluids for

smooth

processing and

enhanced

product quality

Removes

curled

paper edges and paper

waviness
The smooth way to achieve top quality
The Contiweb Digital Fluid Applicator (DFA) ensures moisture is applied evenly to printed paper, avoiding ugly curled edges and waviness caused by uncontrolled reabsorption of moisture. Eliminating these issues after high-temperature drying of printed materials also prevents jams in the finishing line and enables web inkjet printers to deliver top-quality printed material.
Benefits
The DFA uses contact rollers to apply moisture to the paper evenly


The amount of moisture can be set and controlled very precisely for each side of the paper


Uses tap water, so no need for specially prepared osmosis water or deionized (DI) water


Can optionally mix pure silicone oil with the tap water to protect against damage to the printed matter in the finishing line


Easy to operate via a touchscreen HMI


Can be controlled by central press software


Machine is quick and easy to install


Compatible with all brands of web inkjet printing presses.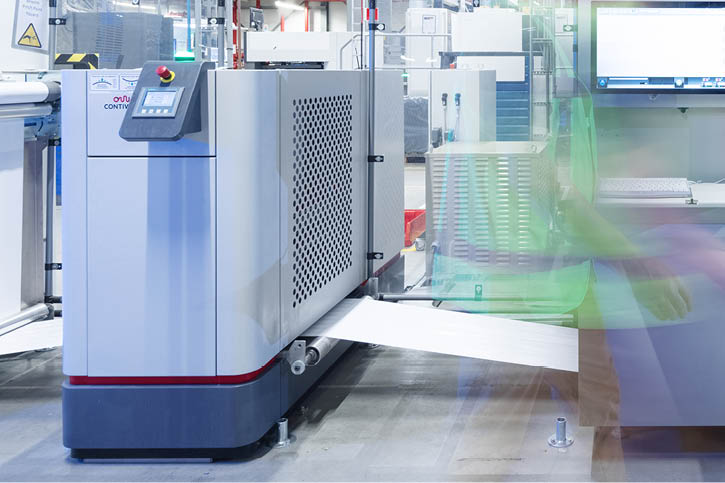 Drying the paper can damage it
Drying printed paper is a critical step in the web inkjet production process. However, a huge amount of heat is rapidly applied to the water-based inks to meet the market need for ever faster production. During this process, the temperature of the paper easily exceeds 100°C or 212°F. This not only causes the moisture from the ink to evaporate, but also the moisture in the paper. As a result, after printing the paper often has a moisture content of less than 1%.
Paper with a low moisture content is weaker and therefore prone to breaks or cracks. The paper will also tend to absorb moisture due to its hygroscopic properties. If this happens in an uncontrolled manner, wavy paper and curling edges are inevitable. This causes inferior and unmarketable product quality and can lead to problems like jams in the finishing line.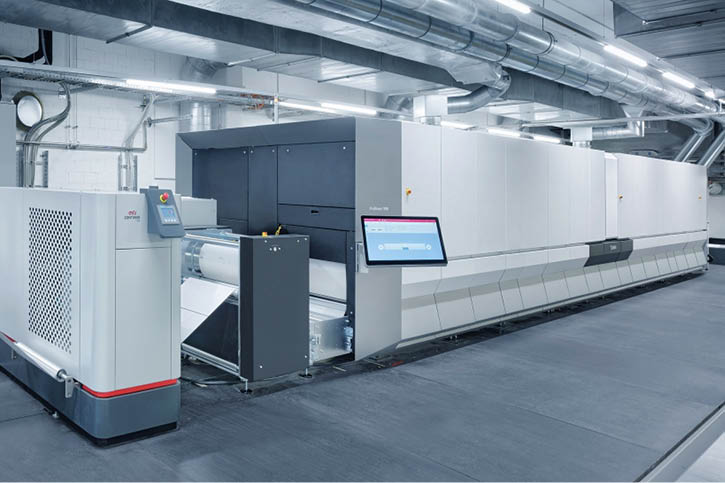 Controlled remoistening
The DFA is a standalone remoistening system for web inkjet presses that applies moisture to the paper web to prevent curled paper edges and waviness. The result is is increased product quality and smoother processing in subsequent equipment. The DFA also offers the option to mix in silicone oil, which protects the printed material from damage caused by finishing systems. This Contiweb system is compatible with all inkjet web presses.
The DFA uses steel rollers that are mechanically pressed against the paper web to apply moisture. Textile sleeves are pulled over the steel rollers to ensure an even distribution of moisture. This is critical because it ensures maximum reduction of waviness and warping of the paper edges after printing and drying of the paper web. This method eliminates the undesirable cockling effect.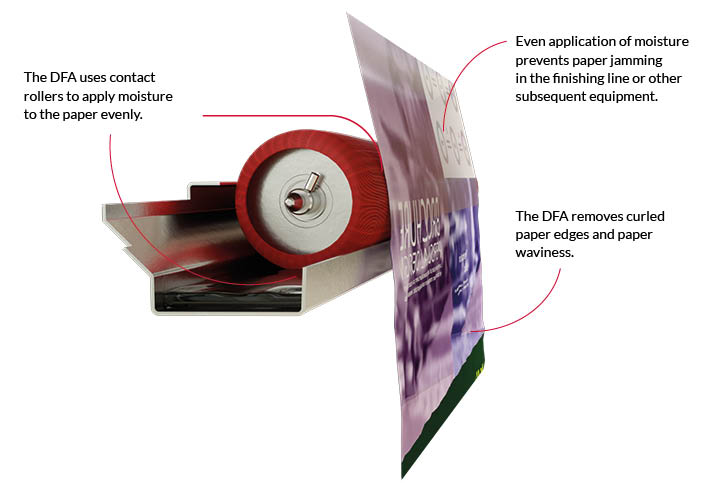 Tap water
Contiweb's DFA remoistening system uses tap water, and so does not need specially prepared osmosis water or deionized (DI) water. The machine mixes water, surfactant and optionally silicone oil directly in the applicator trays immediately before it is applied to the printed web. This ensures uniform remoistening, and reproducible results. The operator only needs to enter the desired oil and water coverage in mg/m² for each side of the paper web on the touch screen HMI, and the control do the rest. Settings can be easily stored and recalled.
All functions are available in a contained unit, installation and commissioning are based on a plug and play principle. The DFA is compatible with all inkjet web presses.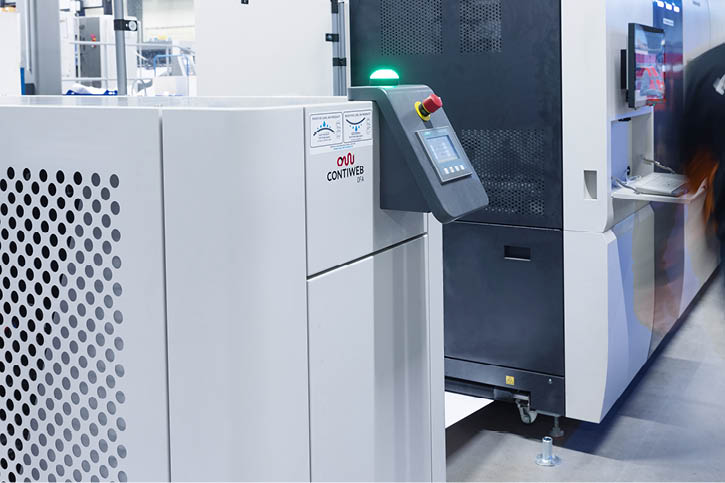 Silicone application
With inline finishing configurations increasing in popularity in web inkjet, the DFA's option to add silicone is gaining importance. Many finishing systems use a lot of moving parts like rollers and wheels which, in time, can leave unwanted scratches and scuffs. These can cause image damage, reducing the value of the printed product.
Contiweb has extensive knowledge of moisture and silicone application in web printing. The experience we've gained in the heat set web offset industry has been successfully applied to inkjet. Contiweb has an installed base of more than 600 remoistening and silicone applicators at top quality printers around the world.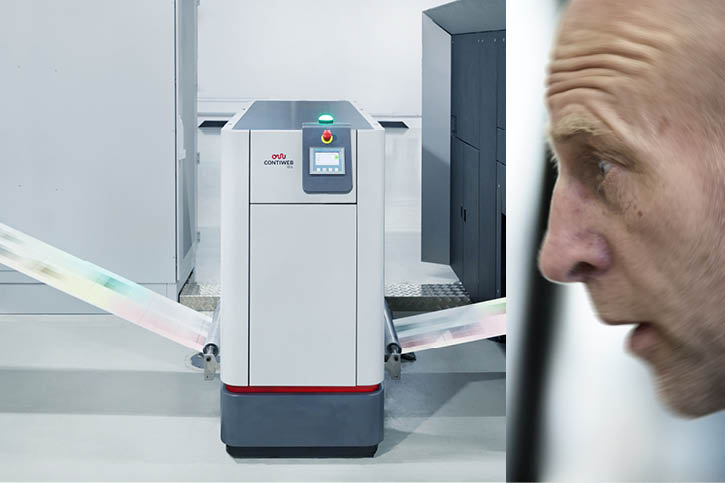 Would you like to know more?
If you are interested in Contiweb's remoistening solutions and you would like to know more, then please don't hesitate to contact us!