Getting the printed product – faster!
Why are short-run inline digital finishing configurations increasing in popularity? Rob Bosman, Senior Sales Manager at Contiweb explores why web inkjet printers are investing in inline finishing systems and how remoistening and silicone application can help achieve the best product quality.
There are a number of reasons why digital printers look to add capabilities to their presslines and finishing systems, one of the most undeniable being speed. Introducing finishing to your in-house workflow means that the finished product is produced and delivered faster. It allows printers to add value and remain competitive, with less waste and minimal makeready – streamlining processes and reducing dependency on outsourcing. Digital finishing, especially when it takes place inline, breaks through the conventional bottlenecks, eliminating the gaps in time and space.
Not only that, as demand for personalisation and customization continues to dominate the industry, and shorter-run, variable data projects become the new normal, printers are faced with new challenges around data security, making in-house digital finishing options even more attractive and in some cases, necessary.
Why should digital printers consider silicone as a part of their finishing process?
Despite the many advantages it brings, inline finishing can have a downside. Many of these systems use lots of moving parts including rollers and wheels, which, in time can leave unwanted scratches and scuffs resulting in image damage, reducing the value of the printed product. Silicone protects the printed substrate, allowing it to resist mechanical stresses. Silicone application also brings additional benefits including constant clean running of the press and no build up, it also reduces the build-up of static charge which can be an issue in folding mechanisms, like retaining rods and folding funnels in digital finishing, where there's a lot of friction.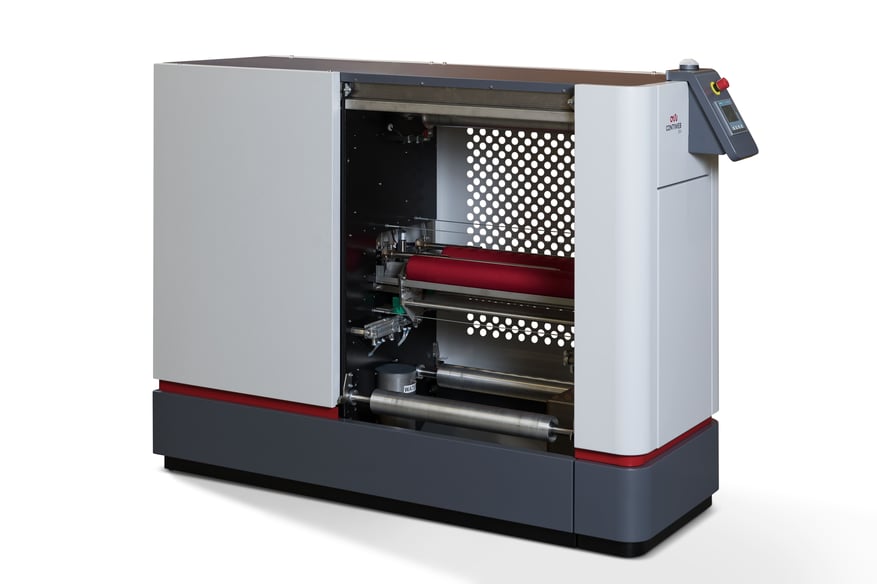 The Contiweb DFA is a remoistener and silicone applicator in one.
Some of the benefits of introducing silicone application to digital printing include:
• Protection of the web from mechanical stresses
• Increased life span of parts and components within the finishing equipment
• Clean running, no build-up and non-blocking
• Enhanced product quality
How does it work?
Here at Contiweb we have developed an approach to using silicone more efficiently without losing performance. The Contiweb Digital Fluid Applicator (DFA) is based on the success of the cutting-edge Contiweb Fluid Applicator (CFA) for the heatset web offset market and allows for easy silicone application.
We have already looked at why remoistening is a key to resolving the issues resulting from drying in digital inkjet printing. The Contiweb DFA is a remoistening and a silicone applicator, in one. As well as remoistening the paper after the high temperatures of drying, the DFA offers silicone application as an added option to protect the quality of the finished product. Decidedly advantageous if inline finishing is being employed, silicone allows print areas to resist against mechanical stresses and application on each side of the paper can be individually controlled. This provides companies with greater remoistening control, ensuring that the final product regains moisture and does not distort from absorbing it from the environment.
Pure silicone oil
The innovative DFA uses 100% pure silicone oil with no additives, this oil is mixed with tap water in trays just prior to application. Pure silicone oil does not leave any visible strings on the product but pulls away nicely. The oil drops in the water are considered extremely large in comparison to standard silicone applications. The result is that the oil is not absorbed by the paper but stays on top for much better protection of the finished product. The delivery of a fresh mix used immediately means only a single agent is required which helps in control the balance required to maintain uniformity and consistency of the film of silicone and water on the web.